Back to all news
Boomin

Property portal operator Boomin has agreed with a number of new listing agreements with UK estate and letting agents with more than 6,300 agency branches now listing properties on its platform.
The firm said that an increase of more than 600 branches was achieved last month, and there appears to be further room for growth thanks in part to the platform's introductory offer.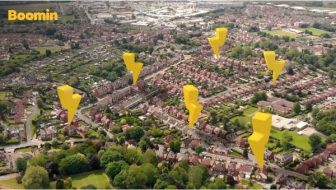 Boomin is completely free to use and free from obligation until the end of March 2022 for all agents, regardless of whether agents signed as founder agents or joined since launch.
It was announced yesterday that Pattinson in the North East of England has become the latest agency to sign up to Boomin. The company, based in the North East of England, has 26 branches with some 200 staff.

Caroline Pattinson, managing director of Pattinson, said: "Like many agents up and down the country we have been lucky to have experienced some excellent results over the last 18 months with over 100 properties even sold in full lockdown last April. But September is fast approaching, and we need to start our planning now for the market after the ending of the stamp duty holiday.
"We have watched the progress of Boomin over the last few months and feel confident that the time is now right
for us to join. I've heard positive feedback from other agents who are already using the platform.
"They are different and the opportunities for new income streams is certainly of interest. We are looking forward to working with the team and making the most of the new features that only Boomin offers."
Michael Bruce, CEO and founder of Boomin, commented: "I couldn't be more delighted to welcome Pattinson Estate Agents to the Boomin platform. They are a highly successful, family-run, independent agency that has been part of the industry for generations. The ambition and genuine enthusiasm Caroline and the team have for quality agency and for their customers is fantastic.
"Agents are finding that Boomin is not just a 'classified advertiser' and that our DNA is very different. They are finding that we are all about genuine, sustainable innovation that leads the way for everyone, sets the direction and wakes up the competition. Our continued growth and release of further new and exciting features under development will prove highly effective for all great agents like Pattinson's who are on Boomin, as we enter what may prove to be another changing market landscape for our industry.
"We are continuing to complete the onboarding of the hundreds of new agents that we have signed up for and are excited to start to be of service to them."