2 bed character property to buy in TD11
The Row, Longformacus, Duns, Scottish Borders, TD11 3PA
Online auction
Alternatively call 0191 737 1152 or email northeast@pattinson.co.uk
For sale by online auction - T&C's apply
Two Bedrooms
Parking
Electric Heating
Garden
2 bed character property to buy in TD11
FOR SALE VIA Online Auction until 19/05/22 10:00. Starting Bid £240,000. Terms and Conditions Apply.

This is a delightful and particularly unique property set within a terrace of 18th century stone cottages in the charming village of Longformacus just a few miles from Duns in the Berwickshire Scottish Borders. The property is arranged over three floors, the ground floor being a dedicated garage and storage space, with the habitable areas located above and a beautiful garden to the rear. The property is entered at street level via a shared passageway which leads to the front door at the back of the property and to a good-sized multi-level landscaped garden. The first floor has an elegantly arranged dual aspect kitchen reception area, along with master bedroom and stunning en-suite bathroom. The second floor hosts another stunning dual aspect living space and further double bedroom plus separate modern bathroom. The entire property has been renovated to a high standard with materials and décor that perfectly reflect the character of both the property and the village. The accommodation would make an exceptionally peaceful weekend escape as well as a delightful permanent home for those looking to escape the chaos of city life.

Area Insights:
Longformacus is the largest of the Lammermuir villages, set in an area of incredible natural beauty hidden away but perfectly located between the lively cities of Edinburgh and Newcastle upon Tyne. The village has a neighbourly community with the village hall and local church offering a variety of events and social opportunities for inhabitants and visitors. From Longformacus it's an easy 10km drive Southeast to the town of Duns which offers essential local amenities, an 18-hole golf course, a water sports centre along the Whiteadder, and heritage sights such as Duns Castle and Manderston House. Heading Northwest over the hills is the slightly larger town of Haddington which offers an array of independent retailers, bars and restaurants and more widely recognised retailers.
Longformacus is a quiet and peaceful village but offers excellent links to Edinburgh, Newcastle and even London. The A1 is within easy reach, whether driving North to Edinburgh and beyond or South through Berwick upon Tweed, Newcastle, and The South. Regular trains from both Edinburgh and Berwick mean London can be just a 3 ½ hour journey away.
The nearby A697 provides easy commutable access to Scotland's capital city, Newcastle and Berwick upon Tweed which is only a 20-minute drive away. Longformacus is situated in the north of Berwickshire, and to the south of Midlothian offering great access to many other enchanting towns, villages and National parks throughout the Scottish Borders, East Lothian, and Northumbria.

Accommodation Comprises:
Ground Floor - Garage, Storage Room.
First Floor - Open Plan Kitchen Dining Room, Master Bedroom (En-Suite).
Second Floor - Sitting Room, Double Bedroom, Large Bathroom.
Outside - Private Garden.

Distances:
Duns 7 miles, Westruther 15.5 miles, Berwick upon Tweed Train Station 23 miles, Edinburgh 35 miles, Greenlaw 12.5 miles, Melrose 29 miles, Coldstream 16.5 miles, Kelso 21.5 miles
(all distances are approximate).
Summary
Property Type: Character Property
Bedrooms: 2
Receptions: 1
Tenure: Freehold
Central Heating: Other
Parking: Garage
Floor Plan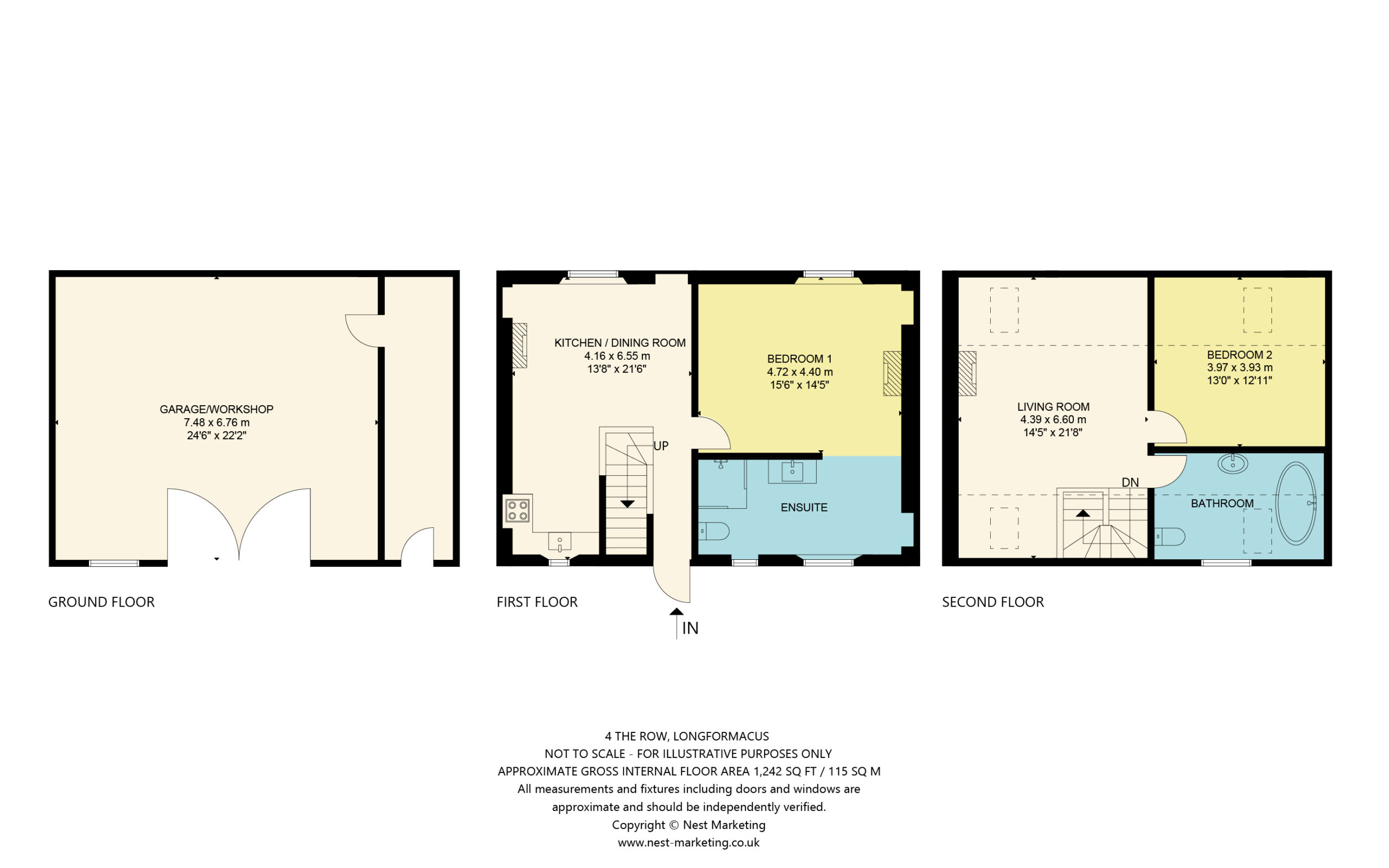 This property is being sold subject to the Scottish reservation fee auction terms and conditions.
Timescales
There are 28 days for the conclusion of missives and to complete the purchase.
Legal Pack
A legal pack is available to download. Special conditions may apply.
We strongly recommend buyers familiarise themselves with the legal pack prior to bidding.
Deposit
In order to secure the purchase a buyer will pay a deposit of 5% which contributes towards the overall purchase price of the property.
The deposit is non-refundable.
Buyer Fees
This property is sold subject to a non-refundable reservation fee of 3.75% + VAT to a minimum of £5,000 + VAT (£6,000 inc VAT) This does not form part of the purchase price..
A reservation fee is payable by the buyer where a seller has opted to sell with no fees. As a result, a lower reserve price is usually agreed on lots where a reservation fee is applicable.
More Information
For more information call our auction experts on 0191 206 9335 or email auction@pattinson.co.uk
ONLINE AUCTION NOTICE
I hereby acknowledge and confirm the following:
My bid, once submitted, cannot be withdrawn by me at any time before 1 hour after the close of the auction. My bid may be accepted by the seller at any time before the close of the auction. It is subject to the terms and conditions of the auction which I have read and understood. I have read and understood the legal pack applicable to my bid/lot and agree to be bound by any special conditions within that pack. If my bid is successful (whether as the highest bid or upon acceptance by the seller in the course of the auction) I shall be bound by the lot terms and conditions as advertised online.
At the point of registration, you will be required to insert credit or debit card details as a way of payment towards the deposit and or reservation fee. We will only hold a nominal amount (which will be stated at the point of bidding) to enable you to bid. This amount will only be debited from your account should you be the successful bidder, in the event you are unsuccessful the agreed amount will be released back to your card within three business days. If you are the successful bidder we will debit the agreed amount from your account immediately at the close of the auction, we will then contact you to confirm the outstanding balance (if applicable) at which point you can opt to use the same card. Any amount payable at the close of the auction must be paid within 1 hour.


Please note that the bidding process will work in a different way to an eBay auction, so there is NO advantage to bidding at the last second.
Each auction will automatically stay open until there has not been a bid for 10 minutes. After 10 minutes without a bid, the auction will close and the highest bidder will be successful subject to the reserve price being met or upon acceptance of an offer by the seller throughout the auction cycle. If there is another bid within 10 minutes of the last bid, the auction countdown timer will be restarted for another 10 minutes to allow further bidding. This system avoids last minute (or second) bidding and makes for a fairer auction as in a live room auction situation.
Please bid in good time before the end of the auction, delaying your bid to the last seconds may disadvantage you if your connection slows or you lose internet connectivity. It is the bidder's responsibility to ensure the bid has been lodged with the auctioneer. The auctioneer accepts no responsibility for bids that are not received or are received late and reserves the right to reject any bid without notice.
Minimum online bidding increments:
£50,000 - £250 minimum bid
£50,001 to £150,000 - £500 minimum bid
£150,001 to £250,000 - £1,000 minimum bid
​£250,001 to £750,001 - £2,500 minimum bid
£750,001 to £1.5 Million - £5,000 minimum bid
£1.5 Million Plus - £10,000 minimum bid
Please note this bidding process applies specifically to online auctions.
Please login to view legal packs for this property.