retail in TS10
Cleveland Street, Redcar, North Yorkshire, TS10 1BA
Bid now
Online auction
Alternatively call 0191 580 1587 or email commercial@pattinson.co.uk
Investment Opportunity
Generating Approximately £42,000 Per Annum
Three Storey Property
Situated Close to The Seafront & Town Centre
Freehold title
retail in TS10
FOR SALE BY AUCTION: Terms and conditions apply.

We are pleased to offer to auction this unique opportunity to acquire this commercial investment with a professional long term occupant (operating a child care business) paying £42k per annum, overall a fantastic return on investment for any business, landlord or company. The property is prominently located on Cleveland Street, Redcar which is within easy reach of local amenities, transport links and Redcar town centre.

Please note that we have not inspected this property.



Summary
Property Type: Retail
Parking: None
Location
The subject property is well located along Cleveland Street, Redcar. This property is located within easy reach of local amenities, transport links, schools & Redcar beach. The subject property is located approximately 1.9 miles from Redcar town centre and approximately 8.7 miles from Middlesbrough town centre.
Accommodation
GROUND FLOOR:
Main Room (13.5 x 6.3)
Cafe (7.4 x 6.8)
Cafe Hall (11 x 3)
WC (2 x 5.3)

FIRST FLOOR:
Room 1 (8.1 x 13.3)
Room 2 (7.3 x 6.7)
Room 3 (3.5 x 6.4)
Kitchen 1 (4 x 3)
Kitchen 2 (6 x 4)
WC (3 x 3.2)

SECOND FLOOR:
Office 1 (4 x 3)
Office 2 (4 x 4)
Kitchen (4.5 x 3.4)
Lease Details
The property is tenanted at £42,000 with the lease commencing on the 11th of August 2021 on a 10 year term with a break year 5 (10th August 2026).

Full lease shall be provided in the legal pack.
Tenure
FREEHOLD. TITLE NUMBER: CE186421
EPC
Available upon request (rating D).
Additional Information
For further information please contact our office direct on 0191 737 1154, or alternatively via e-mail on commercial@pattinson.co.uk. With regards to viewing the subject property, this is to be done strictly by appointment through Keith Pattinson Commercial department. Please contact us to arrange an internal inspection, or to register your interest.
Floor plan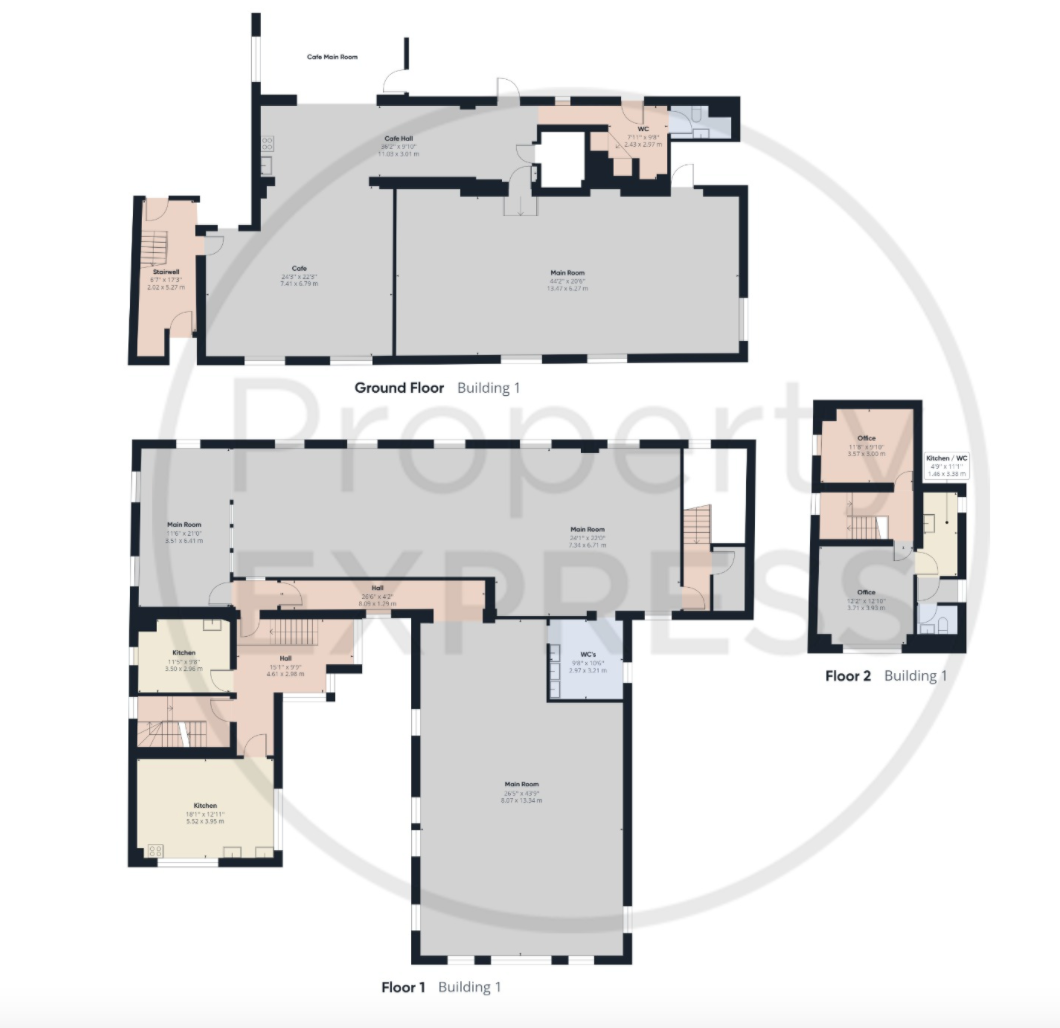 This property is being sold subject to unconditional reservation fee auction terms and conditions.
Timescales
Contracts will exchange immediately. There are 28 days in which to complete the purchase.
Legal Pack
A legal pack is available to download. Special conditions may apply.
We strongly recommend buyers familiarise themselves with the legal pack prior to bidding.
Deposit
In order to secure the purchase a buyer will pay a deposit of 5% which contributes towards the overall purchase price of the property.
The deposit is non-refundable.
Buyer Fees
This property is sold subject to a non-refundable reservation fee of 5% + VAT to a minimum of £5,000 + VAT (£6,000 inc VAT) This does not form part of the purchase price.
A reservation fee is payable by the buyer where a seller has opted to sell with no fees. As a result, a lower reserve price is usually agreed on lots where a reservation fee is applicable.
More Information
For more information call our auction experts on 0191 206 9335 or email auction@pattinson.co.uk
ONLINE AUCTION NOTICE
I hereby acknowledge and confirm the following:
My bid may be accepted by the seller at any time before the close of the auction. It is subject to the terms and conditions of the auction which I have read and understood. I have read and understood the legal pack applicable to my bid/lot and agree to be bound by any special conditions within that pack. If my bid is successful (whether as the highest bid or upon acceptance by the seller in the course of the auction) I shall be bound by the lot terms and conditions as advertised online.
At the point of registration, you will be required to insert credit or debit card details as a way of payment towards the deposit and or reservation fee. We will only hold a nominal amount (which will be stated at the point of bidding) to enable you to bid. This amount will only be debited from your account should you be the successful bidder, in the event you are unsuccessful the agreed amount will be released back to your card within three business days. If you are the successful bidder we will debit the agreed amount from your account immediately at the close of the auction, we will then contact you to confirm the outstanding balance (if applicable) at which point you can opt to use the same card. Any amount payable at the close of the auction must be paid within 1 hour.
Please note that the bidding process will work in a different way to an eBay auction, so there is NO advantage to bidding at the last second.
Each auction will automatically stay open until there has not been a bid for 10 minutes. After 10 minutes without a bid, the auction will close and the highest bidder will be successful subject to the reserve price being met or upon acceptance of an offer by the seller throughout the auction cycle. If there is another bid within 10 minutes of the last bid, the auction countdown timer will be restarted for another 10 minutes to allow further bidding. This system avoids last minute (or second) bidding and makes for a fairer auction as in a live room auction situation.
Please bid in good time before the end of the auction, delaying your bid to the last seconds may disadvantage you if your connection slows or you lose internet connectivity. It is the bidder's responsibility to ensure the bid has been lodged with the auctioneer. The auctioneer accepts no responsibility for bids that are not received or are received late and reserves the right to reject any bid without notice.
Minimum online bidding increments:
£50,000 - £250 minimum bid
£50,001 to £150,000 - £500 minimum bid
£150,001 to £250,000 - £1,000 minimum bid
​£250,001 to £750,001 - £2,500 minimum bid
£750,001 to £1.5 Million - £5,000 minimum bid
£1.5 Million Plus - £10,000 minimum bid
Please note this bidding process applies specifically to online auctions.
There is no legal pack for this property.