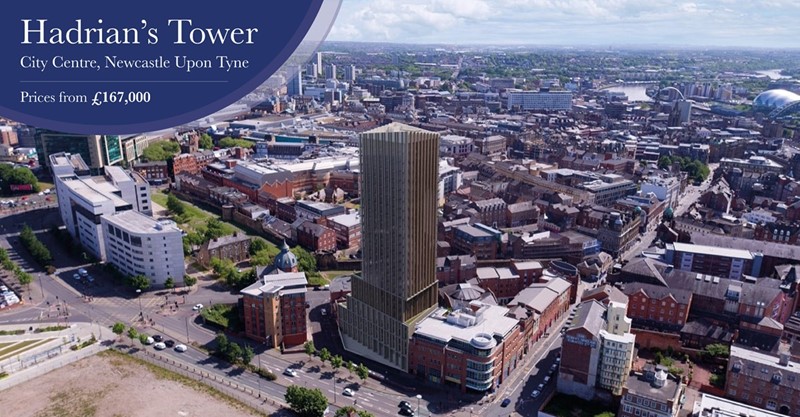 Hadrian's Tower, set back from Rutherford Street in the heart of Newcastle, is set to become the most sought after residential address in the city. The prestigious development will provide 26 storeys of prime luxurious living whilst adding an iconic new landmark to the city.
The world class accommodation will encompass 162 predominantly one and two-bedroom apartments, as well as a café, laundrette, open-plan meeting space and an exclusive 26th floor sky lounge. With on-site concierge, cleaning services, maintenance, resident support, Wi-Fi and high-speed broadband, this fabulous residence will be the envy of all in Newcastle.
The development and investment creates an exceptional opportunity with 5% interest on all exchange monies throughout the 18-month build programme. Hadrian's Tower provides an assured and guaranteed 7% NET YIELD FOR 5 YEARS with completion scheduled for early 2020. This creates a superb financial structure, as well as an outstanding development for all investor and prospective owners (Information provided by developers and should be verified independantly). Full brochure details are available below
Property Highlights
– World class apartments, facilities and services
– Superb city centre location, perfect for business and leisure purposes
– Stunning sky lounge offering city sky line views
– Twin aspect views in most apartments
– Café and touch down meeting points provide a versatile environment
– Whole-house ventilation and sprinkler system protection in all apartments
– Superior support for residents including concierge, maintenance and cleaning services
– All apartments are wheelchair accessible
Why Invest in Property in Newcastle upon Tyne?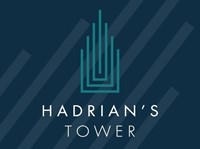 • Known as the capital city of North East England.
• Growing population & prosperity.
• Home to two world-class universities and four National Centres of Excellence.
• One of only 6 designated UK Science Cities.
• Home to a number of national and international employers including top names in business and professional services as well as technology, science, banking, offshore and other industries.
• Excellent transport links around the city, nationwide and internationally; Newcastle International Airport is less than 30 minutes from the City Centre and provides direct flights to over 80 destinations.
Recent research released by Barclays, the UK Prosperity Map 2017, demonstrated that Newcastle upon Tyne is experiencing strong growth and successfully closing the gap on larger UK cities. This is encouraging news for the property investment market in the city and places Newcastle as a location with plenty of opportunities for investors and developers throughout the North East and all over the world. The research also stated that;

• Newcastle has the largest year-on-year growth in UK GDP per capita at 4.4%.
• The city saw an increase of 6.3% in average earnings.
• The North East is home to 91,000 millionaires.
'Invest in Newcastle' reports that the North East has the highest graduate retention rates in the UK outside of London which results in good levels of post-graduates and young professionals in need of accommodation. Undergraduates become accustomed to high quality student accommodation during their time at university and aren't prepared to downgrade once they move on to further study or to get a full-time job. This places schemes such as the Hadrian's Tower development as excellent prospects for the graduate and young professional rental market in the city.